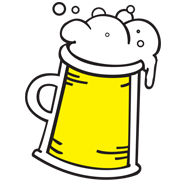 To all our wonderful customers and friends,
Due to the rising numbers of COVID-19 cases in the Rochester area, three of our locations have fallen into orange-zone clusters.
Because of this, we will be shutting down our Brighton, Greece and Empire Blvd. locations effective WEDNESDAY NOVEMBER 25TH. We plan to reopen these locations as soon as we are given the OK! For the time being our Gates and Henrietta locations will still be open from 11AM-10PM everyday!
We appreciate all of your support during these trying times and plan on continuing to persevere through this crazy year we call 2020.
Our Lunch & Dinner menu is avaviable at all of our locations starting at 11:00am everyday. Pickup orders are always weclomed as well. Due to new COVID restrictions all locations will be closing at 10 pm starting Friday 11/13/2020.
Today's Specials: Friday 12/4
$3 1/2 Pints, $5 Pints and $12 Pitchers
Gates:

All Beer that Comes in Pints
$5 Goblet Special: All Beer that Comes in Goblets
$11.95 Grilled salmon wrap with mixed greens, tomato, pepper jack, avocado, and salsa.
Henrietta:
All Beer that Comes in Pints
$5 Goblet Special: All Beer that Comes in Goblets
$11.95 Beer Battered Haddock Fish Sandwich with lettuce, tomato, and onion. Served with tarter sauce, coleslaw, and your choice of side.
Our Way of Saying Thank You
The MacGregor's Beer Club is designed to reward our regular customers, and say thank you for your continued support. It works much the same as a frequent flyer program. Just fill out the form below and we will mail it to you.
Use your beer club card every time you purchase a pitcher, pint, goblet, 23oz hefe-weizen, or specialty glass of your favorite beer, and you will be awarded points. These points accumulate and you can apply them to the purchase of future beers.
MacGregor's Grill and Tap Room currently has five locations in the Rochester area.
Temporary Closed
Due to COVID-19
Temporary Closed
Due to COVID-19
Temporary Closed
Due to COVID-19